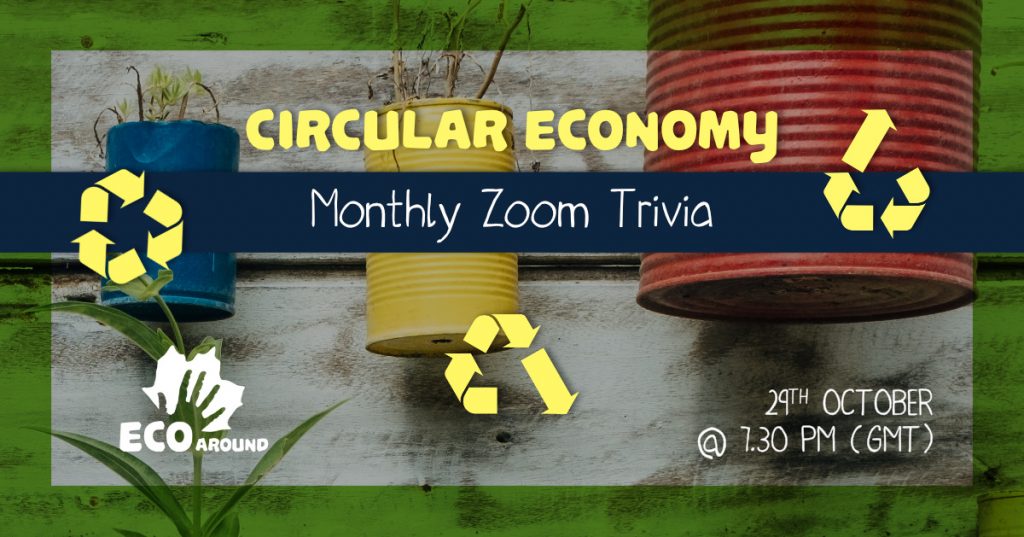 Join us for an online trivia evening!

About this trivia event
Take part by yourself or gather as housemates, a couple, a family… on the couch to build your trivia team and prepare to work together to decide on answers related to the Circular Economy theme.
The aim of the competition is to have fun working cooperatively as a theme while checking your knowledge about Circular Economy, the business model aimed at eliminating waste and the continual use of resources.
This is a fun quiz, not a test, but you can get ready in advance on the topic if you are really competitive! We also shared some related content on our social media channels on Facebook and Instagram in the past weeks.
What is the prize?
Reusable Produce Bags. Washable and durable made from organic cotton.
We are giving away a Small (8x12in), Medium (12x14in) & Large (12x17in) produce bag as a set of 3
Who can take part?
UK Based people
When is it?
7.30 pm on Thursday the 29th of October. Will last 1 hour plus 30 min general eco chat.
Tickets?
Please book your space as a single person or as a team by reserving a ticket on Eventbrite. Tickets are £4 to cover the event's organisation and the purchase and postage of the prize.
How do I access the quiz?
In order to participate, your team will need access to a computer or tablet. We will run the event thought Zoom .us.
Visit www.zoom.us and set up an account (if you don't already have one).
The Zoom meeting ID with a password will be shared upon registration 24 hours before the event but we still admit late joiners so would share again one hour before it starts.
Please aim to arrive 10 minutes ahead 7.30 pm to ensure your team can join properly, simply click 'join a meeting'', enter the meeting ID and wait in the zoom waiting room. You might need to update to the last version of zoom if you haven't done yet recently.
Please make sure to provide a valid email address. Please make sure to mark emails from the Eventbrite to avoid our email with the link to the webinar going to your junk folder.