The folk singer Peter Seeger was a social activist against nuclear energy and the Vietnam war. Also a supporter of the civil rights movement and a keen environmentalist. He believes in the circular economy.
"In 1966 Seeger and his wife Toshi founded the Hudson River Sloop Clearwater, a non-profit organization based in Poughkeepsie, New York. It seeks to protect the Hudson River and surrounding wetlands and waterways. Doing this through advocacy and public education. They built a floating ambassador for this environmental mission, the sloop Clearwater. He also began an annual music and environmental festival. Today known as the Great Hudson River Revival"
Source Wikipedia.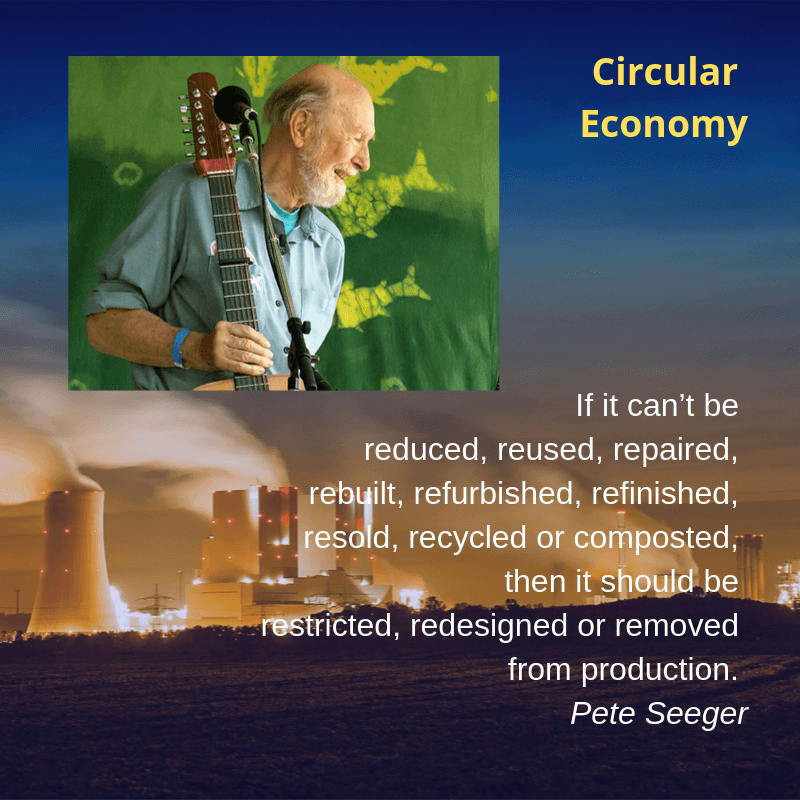 What can you do to be part of the circular economy?
There are a number of things that you can do for the environment by helping to create a circular economy. So, the idea behind a circular economy is to reduce your impact on the planet. Here are a few everday activities that you can do to help:
– Buy clothes from charity shops rather than new

The fashion industry generates a great deal of pollution. This is through the making and transportation of clothing. So, try and buy second-hand next time. A good tip is to go to a charity shop in a wealthy area. That way you have a better chance of finding high-quality clothes.
– Compost your food waste rather than throw it away
A wormery or a standard compost heap can be a great way of reusing food waste. It gets broken down and creates a great fertiliser for your plants in your garden or on your balcony.
– Make your own toothpaste or soap
A great idea to reduce packaging, particularly plastic waste. Although, also by making your own products you can ensure they contain natural ingredients. Therefore, having a lower impact on the planet.